December 1, 2019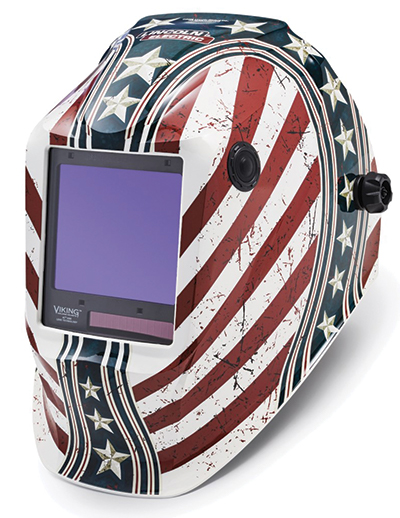 Among a wealth of new products highlighted by Lincoln Electric at FABTECH, Viking 2450- and 3350-series auto-darkening welding helmets. The professional-grade helmets feature advanced 4C optics, innovative headgear to improve comfort and a low-profile external grind button to increase productivity.
The helmets' new, unique X6 headgear contours to an operator's head, evenly distributing weight across six key contact points. This improves balance, eliminates pressure points and provides a personalized fit for maximum comfort, according to Lincoln Electric officials.
The addition of the new external grind button allows an operator to switch quickly between weld to grind mode without having to remove the helmet or gloves. The auto-darkening lenses on these helmets offer 1/1/1/1 optical clarity, and 12.5- and 9.3-sq.-in. viewing areas. The lenses provide broadened color ranges and hues that can be seen in both light and dark states. This eliminates imperfections and color saturation to create a clear view of the base material, arc and puddle while reducing eyestrain.
See also: Lincoln Electric Co.
Technologies: Safety, Welding and Joining